Vaughan Lee House is very much a part of the local Ilminster community and is generously supported by groups and organisations who visit from time to time. A Church of England Communion Service is held regularly and a Methodist Service arranged quarterly.
Karen Roberts and her staff endeavour to make Vaughan Lee House as much a home as possible and they are always pleased to chat with residents and to offer help when advice is sought. Residents are encouraged to live as full a life as they are able and to go out as often as they wish. We welcome visits from friend and relatives.
The Friends of Vaughan Lee regularly visit the home to help serve coffee and tea and to talk with residents. They also offer much appreciated help with fund-raising and other endeavours.
Activities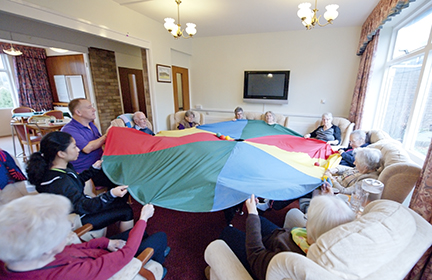 Activities are organised in the mornings and include:
Arts and crafts
Poetry
Quizzes
Flexercise
Dominoes
Card games
Reminiscence therapy
Singalongs
Visiting entertainers
Visits by Birds of Prey or Donkey Sanctuary
Residents' meetings
Minibus trips to Garden Centres with stop for coffee
Seaside outings
Cream teas at Maunsel Lock
Christmas shopping and Christmas lights
Broadwindsor craft centre
Animal sanctuary visits
Day Care
We do appreciate that leaving home for life in residential care is not an easy decision. Vaughan Lee House provides day care, partly to relieve the loneliness of isolated living but also to give an opportunity to find out about life here. A complimentary day is offered to prospective daily visitors. Those attending for Day Care arrive from 10am and we provide mid-morning coffee, lunch and afternoon tea, followed by high tea at 5:30pm.
Respite Care
Short term residency is often available to provide families and carers with respite for holidays or absences and we make every effort to accommodate temporary stays which fit around the needs of individuals.
Enquiries
Enquires for all types of care are most welcome and our Manager Karen, or Deputy Manager Alison, will be pleased to discuss your requirements. Fees include care, all meals, heating, lighting and laundry.